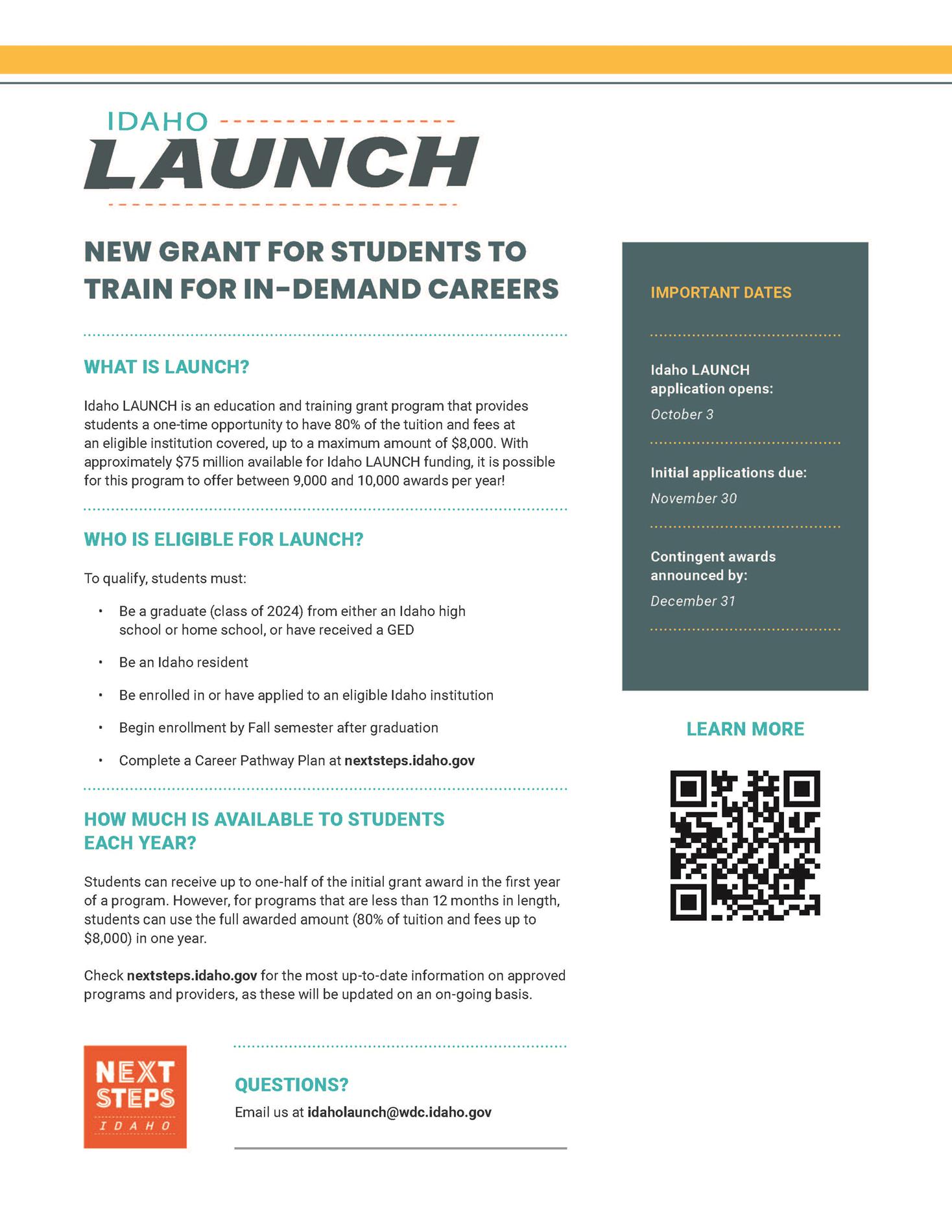 The role of the school counselor is to help all students in the areas of academic achievement, personal development, and educational and career exploration. The counselor assists students are parents with graduation requirements, class registration, college and scholarship applications.
Idaho Standards Achievement Test

The Idaho Standards Achievement Comprehensive Assessment System consists of a Digital Library for Formative Assessment which provides resources for teachers to use to help improve student learning; Interim Assessments which are optional tests given during the school year to help monitor student progress, and the year-end Summative Assessment. Each of these are part of a coherent and comprehensive system of assessment designed to be used together to improve teaching and learning.
PSAT
Preliminary SAT
Measures critical reading skills, math problem-solving skills, and writing skills; usually taken as a junior; also National Merit Scholarship qualifying test.
ACT
American College Tests
Troy school code: 130630
College entrance exam used by most Idaho colleges and universities; tests areas of English, math, reading, and science.
SAT
Scholastic Assessment Tests
Troy school code: 130630
College entrance exam primary used in some states (besides Idaho); tests areas of critical reading, math, and writing.
CLEP
College-Level Exam Program
Subject area exams that give students the opportunity to receive college credit.
COLLEGES & UNIVERSITIES
Did you know... a report in 2006 found that statewide, only 26% of Idaho students are going to college. In 2007, about 79% of THS's graduating seniors started college in the fall as did about 73% of the class of 2008.
| | |
| --- | --- |
| Finaid | Guide to all types of financial aid — loans, grants, scholarships, etc. |
| FAFSA | Federal Student Aid site — apply online |
| Wester Undergraduate Exchange | Western Undergraduate Exchange — western schools that participate in program that allows students from participating states to attend for less than non-resident tuition |